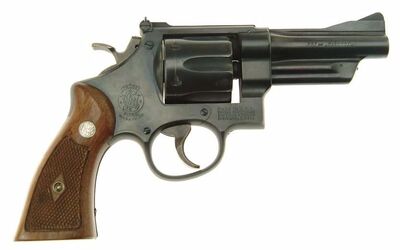 The Smith and Wesson model 28, Highway Patrolman, is the standard sidearm for C.O. at Abbott and many other law enforcement agencies in Maryland. It is chambered in the .357 Magnum calibre and holds six rounds. It is an extremely deadly weapon. Those adept in firing such a firearm can be far more deadly while brandishing two of these pistols. As the firearm rules are quite lax at Abbott, these pistols can be found in abundance where ever C.O. may store them. The ammunition is also quite easy to come by. It can first be obtained from the Head C.O. either by killing him as he comes out of the bathroom or letting him die from electrocution in the electric chair room. The second revolver, for dual wielding, can be found in Chapter 2, "Descending", after meeting the three ghosts of the island and learning about insanity and the creature but before encountering the first Marksmen, which will execute a tied up C.O.; pull a lever to detonate a generator in a flooded room you pass and the second revolver can be found hidden in the wall behind it.
Specifications
Edit
(1935 - Present)
Type: Revolver
Caliber(s): .357 Magnum, .38 Special
Weight: lbs ( kg)
Length: in ( cm)
Barrel length(s): 3.5 in, 4 in (10.2 cm), 6 in (15.2 cm), 8.4 in (21.4 cm), 10.6 in (27 cm) (only the 4 is used at Abbott)
Capacity: 6-round Cylinder
Baltimore
Edit
A .357 Magnum revolver used by police officers and COs alike. Can be wielded alone or in pairs. Its ammunition is more scarce than the Colt 1911, but its power is much higher, able to put down some monsters with just one shot.
Community content is available under
CC-BY-SA
unless otherwise noted.