HATE THE SIN, NOT THE SINNER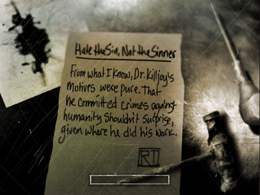 Hate the Sin, Not the Sinner is the eleventh chapter of The Suffering: Prison is Hell. It takes place entirely inside the Asylum.
Though it hasn't seen any official use in several decades, the Asylum is completely intact and still houses a working generator and electric lighting. Oddly enough, it is used by correctional officers as a retreat and gathering place.
Characters featured
Edit
New items
Edit
"I hear the sounds... Boom! Crash! Aaahhh! I've seen some things, through the doorway there, things I don't want see again, understand? I stay right here, where safe, and I have pipe to keep me company." - Sergei (stereo room on first floor)
"And so my favorite subject arrives. It is in this room that all the secrets will be revealed, I will employ an experimental device that helps me chart the undiscovered country. But you can't come to the show yet. First you must prove to me that you trully want to be cured, and that you trully are worthy of my time. See you soon, I hope." - Dr. Killjoy (main entrance)
"Nowhere do the stars shine as brightly as they do on Carnate Island, on this very stage, where it is my pleasure to introduce to you the world of your own mind." - Dr. Killjoy (theater room)